Women's Organization for Political Prisoners (WOFPP)
Newsletter May 2013
There are, at present, 17 women political prisoners in the Israeli jails, 15 in Hasharon Prison (Tel Mond.), one in Kishon Detention Center (Jalameh) and one in Petah Tiqwa Detention Center.

Hasharon Prison (Tel Mond)

Health care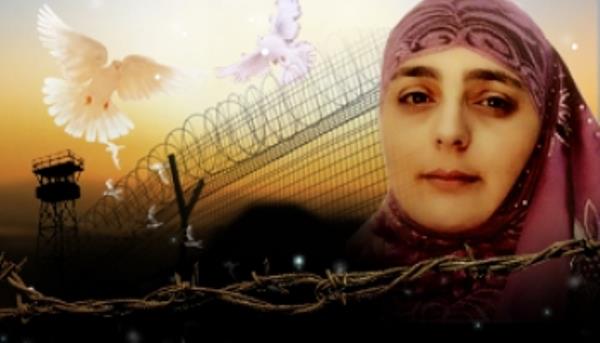 Lina Jarbuni , from Arabeh Bathouf, in the Galilee, was arrested on 15 April 2002: she suffered severe pain during four days. She asked to be examined by a doctor but during four days there was no doctor in the prison. She was treated by a medic who could not help her. On the fourth day, the other prisoners returned lunch in protest against the medical neglect of Lina. In the afternoon, a doctor examined her and ordered to transfer her to a hospital. In the hospital she was examined and she realized that the prison doctor had to contact the hospital a year ago, to set a date for a surgery, but the doctor did not contact the hospital. The prisoners complained that the doctor usually does not act on the women political prisoners' complaints about health problems.
On 19 may 2013 WOFPP's lawyer, Taghreed Jahashan, sent a letter to the prison authorities complaining about the lack of medical treatment concerning Lina.

Food

Recently, the prison authorities have reduced the amount of vegetables that the women political prisoners received. The prisoners wanted to buy vegetables in the canteen but because they are allowed to buy only much larger quantities than they need, they must wait until prisoners in another wing order and join them.

Clothes

Naheel Abu 'Aysha, from Hebron, 35 years old, was arrested from her home in the night of 14 March 2013. The prison authorities refused to let in clothes that her family sent with another prisoner family. On 9 may 2013, WOFPP's lawyer sent a letter to the prison authorities demanding to let in the clothes.

New prisoners

Hiba Abu Rizek, from Walaga, Bethlehem district, 26 years old, mother of two, was arrested on 28 March 2013, at Qalandia checkpoint.

Hiba Budeir, from Doha, Bethlehem district, 26 years old, mother of two, was arrested from her house on 2 April 2013 at 2 o'clock at night, and brought to a detention center in Ashkelon. The Israeli authorities issued an order prohibiting her to meet a lawyer until 7 April 2013. After she had been subjected to an interrogation, she was transferred to Hasharon Prison. Her husband is forbidden to visit her in prison. He gave clothes for her to a family of another prisoner, but the prison authorities refused to let them in.

In'aam Qanambo, from Jerusalem, 44 years old, was arrested on 7 April 2013 during a demonstration, in Jerusalem, after the death of the prisoner Maysara Abu Hamdiya. The police arrested her very violently. She was then brought to Mosqubiya Detention Center and later to Neve Tirza Prison. Although she suffered pain and swelling, she did not receive any medical treatment. Now she is held in Hasharon Prison.



Tahreer elQanye, 30 years old, from Kalil village, Nablus district, working in clothing design, was arrested on 12 May 2013 from her house, with her brother. She was brought to Ashkelon Detention Center where she endured harsh interrogations during many hours, day and night. In Ashkelon she was in solitary confinement and the Israeli authorities prevented her from meeting a lawyer until 23 May 2013. She was then transferred to Hasharon Prison.


Sentences

Alaa Juabi, 19 years old , from Hebron, was arrested on 7 December 2011. On 29 May 2013, she was sentenced to 27 months' imprisonment, and a fine of 3000 NIS (about $840).

Released prisoners

Roan elDrabi, 20 years old, from Dura, Hebron district, was arrested on 4 April 2013, was sentenced to 1 month imprisonment, one month suspended for six months and fine of 1000 NIS (about $280). She was released on 30 April 2013.

Manar Zwahera , 21 years old, from Bethlehem district, a student at the Open University, was arrested on 13 September 2012 and released on 21 April 2013.

Kishon Detention Center (Jalameh)

New prisoner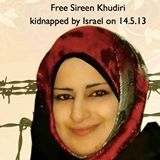 Sireen Khudiri, a teacher, from Tubas, Nablus district, was arrested on 14 May 2013 whilst travelling home from Nablus to Tubas. The Israeli Authorities have prevented her from meeting a lawyer until writing this newsletter, 1 June 2013.


For donations to WOFPP :
Bank account:
Women's Organization for Political Prisoners (WOFPP)
Account number: 471067
BANK HAPOALIM
Branch 532
Daniel Frisch St. 3,Tel Aviv 64078, ISRAEL
IBAN number: IL 60-0125-3200-0000-0471-067
BIC (swift): POALILIT

Address to receive the contribution:
WOFPP
Frug Street 30
Tel Aviv 63417, ISRAEL
Home page