Women's Organization for Political Prisoners (WOFPP)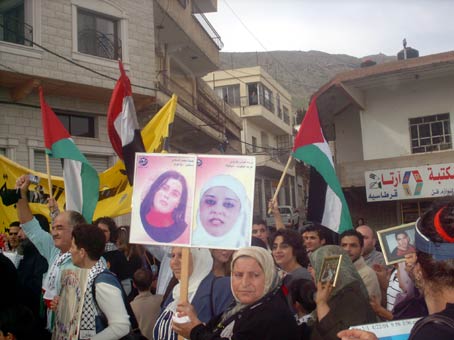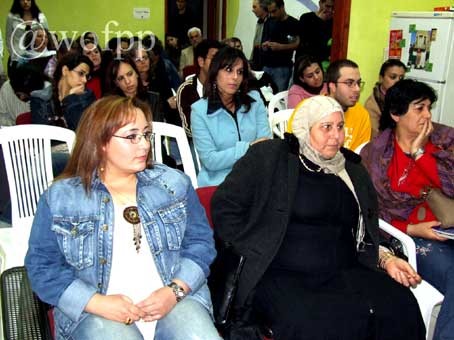 Free all political prisoners
Newsletter April 2017
Regrettably in our first 2017 newsletter we cannot report that any improvements occurred in 2016.
According to a report by Palestinian prisoner-support groups published on 1 January 2017, Israeli security forces arrested 6,440 Palestinian men, women and minors during 2016.
During 2016 the security forces' trigger-happy policy continued unabated and the killing and injuring of Palestinians, both within the Occupied Territories and at the checkpoints, became commonplace.
Another regular occurrence in 2016 was the increasing severity of punishments, in terms of both imprisonment and fines, imposed on Palestinians with residence permits, that is Palestinians residing in East Jerusalem and its surroundings.
As we are specifically concerned with women political prisoners, this newsletter presents several examples relating to sentences imposed on women prisoners from East Jerusalem and and its surroundings.
Asraa al-Ja'abis
was sentenced to 11 years in prison and a 20,000 NIS fine. As reported earlier, Asraa sustained severe burn injuries and is still in a serious condition and needs ongoing treatment.
Shuruk Daweiat
, who was injured while being arrested, was sentenced to 16 years in prison and a 80,000 NIS fine.
A minor,
N. A.
, who was injured while being arrested, was sentenced to thirteen and a half years in prison and a 30,000 NIS fine.
Similar indictments were brought against minor girls tried in military courts, resulting in sentences of up to three years and fines up to 5,000 NIS.
The sentences imposed on Palestinians in civilian courts are far more severe than those imposed by the military courts, often for the same offences. This does not mean that the military courts impose light sentences:
Maisoon Moussa
, for instance, has been sentenced to 15 years in prison in a military court.
Another worrying phenomenon is the reduction in the number of visiting permits granted to the families of prisoners in 2016. We are hearing from more and more prisoners and families (whom we meet at the courts) that visiting permits are not being granted; in some cases, even families that do have visiting permits have their permits revoked at the checkpoints. In other cases, the permit is a one off and families never know when another permit will be granted.
This is particularly difficult for parents of young female prisoners, some of whom are injured. Some examples:
A.B.
was detained for two months. She had only one visit by her mother; her father has not been allowed to visit her.
L.B.
was detained for a year and two months. Her mother visited her three times; her father was not granted permission to visit her.
T. H.
was detained for ten months. Her father visited her twice, her mother visited just once, and on the second time she was not permitted to cross the checkpoint.
N. S.
was detained for ten months together with
T. H.
Her father visited her once, but was stopped at the checkpoint on his second attempt to visit his daughter. Her mother got a permit, but was stopped at the checkpoint.
It is worth noting that family members provide the prisoners with clothes, and prisoners who are not allowed to receive visits do not have sufficient clothing. Apart from the obvious need to meet family members, prisoners often need to sign various documents, such as power of attorney.
When we attend court hearings we always meet family members who never miss an opportunity to see the prisoners, talk to them and exchange information, though they often have to leave home at dawn and return late at night. Court attendance is often an alternative to prison visits.
We have also witnessed a reduction in the activities of the International Red Cross, not only in relation to visits, but also in relation to the provision of handcraft materials for the prisoners.
Administrative detention
There are some 500 Palestinian administrative detainees (precise figures are not available, as numbers change daily). Administrative detention means detention without indictment where the judicial process is usually based on secret intelligence material. Currently there are two female administrative detainees:
Sabah Feroun
from Azarrieh near Jerusalem. Sabah, a 34 year-old mother of four, was detained on 19 June 2016 due to a Facebook post. Since her arrest, her administrative detention order has been extended twice despite an appeal to the Supreme Court. In February 2017, the administrative order was extended by another four months which makes Sabah the longest serving female administrative detainee since October 2015.
Ihsan Dababseh
, 31 years old, from Nuba, Hebron district, was arrested on 27 February 2017. An administrative detention order was issued against her for 6 months. Ihsan is a released prisoner. She was first detained on 11 December 2007 when she was sentenced for 22 months. Her second detention began on 13 October 2014 when she was sentenced for 20 months.
The journey to court (the "Posta")
There might be some change here. The last few times when female prisoners were transported from Damon Prison (Mount Carmel) and from HaSharon Prison (Tel Mond) to the Ofer military court, they were driven directly to the court and returned to Damon and to HaSharon the same day. We do not know yet whether this becomes policy or is just a temporary arrangement. Meanwhile, prisoners tried at the Salem military court and the Haifa district court are transported from prison the previous day and taken to the Kishon detention center (Jalame). This necessitates them taking a lot of equipment with them, such as sheets, towels and food, which the prison should provide but does not. Likewise, there has been no change in the transportation of female prisoners tried in Jerusalem and Beer Sheva, who must leave a day before and are brought back the following day.
There are currently 55 women political prisoners in Israeli jails: In HaSharon Prison (Tel Mond) - 35 female prisoners, including 10 minors. In Damon Prison (Mount Carmel) - 16 female prisoners. In Neve Tirza Prison (Ramle) - one female prisoner. In Petach Tikva Detention Centre - one detainee and an injured detainee at the hospital. Twelve prisoners have been injured during their arrest.
HaSharon Prison (Tel Mond)
The HaSharon Prison authorities decided to renovate wing 11. The renovations will take a few months and meanwhile several prisoners have been moved to Damon Prison; and the others, including the minors, have been moved to wing 2, a smaller wing, in the prison.
Handcraft materials
For the past six months the prisoners' families have not been allowed to bring handcraft materials to the prisons. For the past few years there had been an arrangement whereby once every four months the prisoners received materials for handcrafts from their families, all at the same time. This is obviously an important matter: many prisoners spend long hours doing handcraft and several prisoners used this to learn a trade, embroidery for instance. Handcraft is a form of rehabilitation assisting prisoners in finding work after their release.
Taghreed Jahshan, WOFPPs' legal advisor, has conducted extensive correspondence in the matter, but the requests have been refused. The prison authorities are suggesting that prisoners should purchase material at the prison canteen, but this of course is unacceptable. Canteen prices are high and many prisoners cannot afford the material. There was no option but to appeal to the court. Advocate Yaman Zidan of the Prisoners and Released Prisoners Authority (formerly the Palestinian Authority Ministry for Prisoners and Released Prisoners) represented the female prisoners' spokeswoman
Lina Jarbouni
at court on behalf of the women prisoners. Attorney Taghreed Jahshan fully cooperates on this issue. The appeal was discussed in court twice but the proceedings have not yet ended.
The prisoners have begun studying for the Tahujihi (Palestinian matriculation) exams.
The book situation is still unacceptable as prisoners are allowed only one book per month.
There has been no change in relation to letters: prisoners are still not getting letters sent to them from abroad. We would like to take this opportunity to thank women from abroad who are supporting the female prisoners by writing letters to them.
The security forces continue to persecute prisoners released as part of the Gilad Shalit deal. This was evident in the case of
Randa Shhatit
who was released as part of the Shalit deal in October 2011 and was detained again in August 2016 at a 'floating' checkpoint while she was travelling by car with her mother and baby daughter on the way to the doctor in Bethlehem. After two weeks' detention in HaSharon Prison followed by house arrest, she was released on 3 January 2017. On 20 January 2017, as she was returning with her family from an engagement party, she was again detained at a checkpoint and kept in isolation from the other political prisoners for 18 days in HaSharon Prison. She was released after paying a 10,000 NIS fine. After her release in the framework of the Shalit deal, Randa married and has three small children. We hope that they will finally leave her in peace.
We are delighted to report that the longest serving prisoner,
Lina Jarbouni
, has been released on 16 April 2017. Lina, from Arabah Elbatouf - Galilee Israel, was arrested on 18 April 2002 and acted as the spokeswoman of the female prisoners in HaSharon Prison. We wish Lina all the best.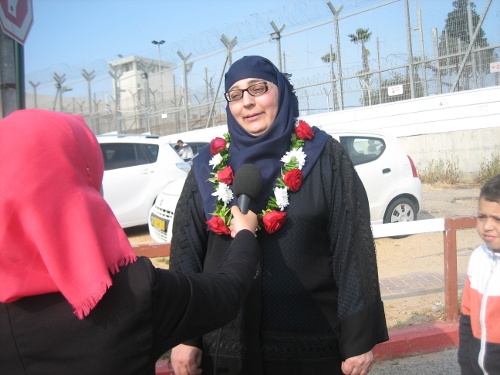 Lina at the time of her release from prison
Since 1974, the Palestinian Prisoners Day is marked each year on 17 April. On this national Palestinian day Palestinians express their support for and solidarity with male and female prisoners detained by Israel, and with their families.
We wish to join the call to release all Palestinian political prisoners.
Due to the large number of detainees and prisoners, WOFPP is now visiting two prisons, Damon and Hasharon, and the number of prison visits has also increased. The minor prisoners who are incarcerated for the first time require extra attention and we are also addressing the cases of prisoners injured during their arrest, something that is new to our experience. At the same time we also continue to monitor the hearings at the military courts. The extra work has placed a strain on our very limited budget and donations to help with our increasingly heavy workload will be much appreciated.
For donations to WOFPP:

Bank account:
Women for Political Prisoners (WOFPP)
Account number: 471067
BANK HAPOALIM
Branch 532
Daniel Frisch St. 3,Tel Aviv 64078, ISRAEL
IBAN number: IL 60-0125-3200-0000-0471-067
BIC (swift): POALILIT
Address to receive the contribution:
WOFPP
Frug Street 30
Tel Aviv 63417, ISRAEL