Women's Organization for Political Prisoners (WOFPP)
Newsletter July 2010
There are, at present, 34 women political prisoners in the Israeli jails: 18 in Hasharon Prison (Tel Mond), 15 in Damoon Prison (Carmel Mountain), one in Neve Tirza Prison (Ramle).

Hasharon Prison (Tel Mond)

Rajaa elGhul, an administrative detainee, 39 years old, from Jenin Refugee Camp, was arrested on 31 March 2009. The Israeli authorities extended her administrative detention order an additional three months.

Advocate Shirin 'Isawi, 30 years old, from Jerusalem, was arrested on 21 April 2010 and brought to Russian Compound (Mosqobiya). In June 2010, she was transferred to a separation wing in Hasharon Prison.

Sentences
Senabel Breek, 20 years old, from Nablus, was arrested on 22 September 2008. On 2 June she was sentenced to 40 months' imprisonment and a fine of 5000 NIS (about 1400$).
'Aysha 'Ghanimat, a former prisoner,19 years old, a high school student, from Surif, Hebron district, was arrested on 2 September 2009. On 30 June she was sentenced to two years' imprisonment.

Released prisoners
Warda Baqrawi, 33 years old, from 'Arabeh, Galilee district, was arrested on 16 October 2002 and released on 20 June 2010.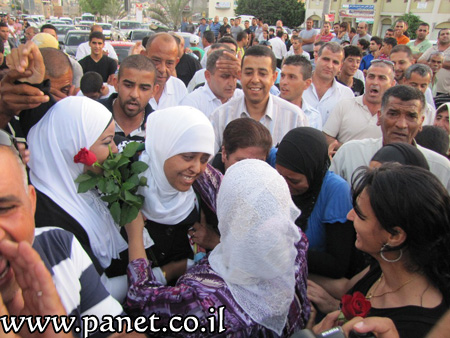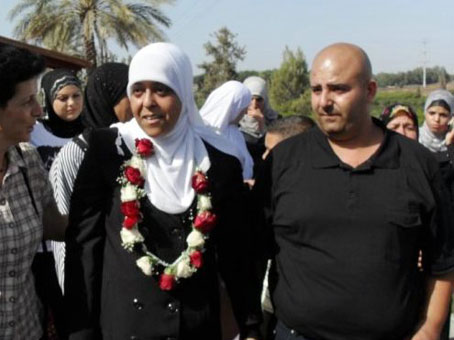 Ghofran Zamel, 26 years old from el'Ein Refugee Camp, Nablus district, was arrested on 29 August 2009 and released on 7 June 2010.
Iman Bader Ekhlayel, 33 years old, from Bet Omar, was arrested on 2 June 2010 and released on bail of 1000 NIS (about 280$). During the seven days that she was detained, she was sick and brought to a hospital twice.

Damoon Prison (Carmel Mountain)

Searches On 24 June 2010 the prison authorities conducted harsh and humiliating searches. In the morning, many guards suddenly and rudely entered the cells and ordered the prisoners to stand without moving and speaking. They made searches in the nude on each prisoner, then put all the prisoners in a corner in the yard and forbade them to speak.

Duaa elJayusi, from Tulkarem, was arrested on 7 May 2002. Her only brother, who is forbidden by the Israeli authorities from visiting her, was recently married. The prison authorities refused to allow her a phone call at the occasion of his wedding.

Amal Jum'ah, from 'Askar Refugee Camp, Nablus district, was arrested on 9 May 2004. In March 2010, she was in a hospital where she underwent surgery to remove her uterus, and now she is recovering. The prison authorities did not take her for follow-up examinations in hospital. Yusef elSadeq Association (prisoners support association) sent a private gynecologist to examine her.

Neve Tirza Prison (Ramle)

'Abeer 'Udeh, from Tulkarem district, was arrested on 9 July 2009. She was transferred from Hasharon Prison to a criminal prisoners' separation wing in Neve Tirza Prison.

Women Detainees from Free Gaza Flotilla

On 31 May 2010, dozens of women from different countries were kidnapped after the Israeli army cruelly attacked the freedom flotilla. Most of them were released after about two days.
One woman, Lubna Masarwaa, from Kufur Qara in the triangle district, was released on 3 June 2010 with the following restrictions: on bail of 150.000 NIS (about 41.700$), 5 days of house arrest and the prohibition of leaving the country for 45 days.

Military Prison

Diane Kogan, 18 years old, of the Tel-Aviv suburb of Bat Yam, was in jail for 10 days and was sentenced again, on 13 June 2010, to an additional 25 days' imprisonment for her refusal to enlist in the Israeli army. Further terms of imprisonment may follow.


For donations to WOFPP:
Bank account:
Women's Organization for Political Prisoners (WOFPP(
Account number: 471067
BANK HAPOALIM
Branch 532
Daniel Frisch St. 3,Tel Aviv 64078, ISRAEL
IBAN number: IL 60-0125-3200-0000-0471-067
BIC (swift): POALILIT

Address to receive the contribution:
WOFPP
Frug Street 30
Tel Aviv 63417, ISRAEL
Home page