Women's Organization for Political Prisoners (WOFPP)
Newsletter Jnuary 2006
Hasharon Prison

There are 106 Palestinian political women prisoners in Hasharon at the present.
Now in wintertime it is very cold in the cells. The prisoners cannot use their heaters because of lack of electric power. Some of the women have only two blankets instead of the six actually permitted, because the procedure of bringing them is too complicated due to the twisted prison bureaucracy.
The women living on the first and second floor are still suffering from the wetness dripping into the rooms. The month of January was particularly cold and rainy.
The food is practically inedible: it is very bad and dirty and sometimes even rotten. Therefore they have to buy most of their food in the canteen. The families are not allowed to bring any foodstuff.
When family visits are taking place, the visiting room is extremely crowded because about fifteen families are there at the same time.
The dental care is totally inadequate. Even when complaining of acute problems the women have to wait up to six months.
At the end of December the sports equipment provided by The Palestinian Authority on 14 November 2005 has finally been handed over to the prisoners.
The women are very concerned by rumours the prison authorities are spreading that some women or all the women will be transferred either back to Neve Tirtza or to some other jail.
On 14 December 2005, the District Court in Tel Aviv rejected the appeal of Su'ad Abu Hamed from Nazareth against the refusal of the Parole Board to release her after she has purged two thirds of her prison sentence. The court session was taking place in camera.
On 22 December 2005, Nivin Shweiky, 20 years old, from Hebron , Shifaa elQudsy, 22 years old, from Tulkarem, Arij Bader and 'Aisha Sabihat, 21 years old, from Jenin, appeared before the Parole Board to request early release. Only 'Aisha Sahihat, was granted early release, and she was released on 8 January 2006 (she had been arrested on 7 February 2005).
On 4 January 2006, the District Court in Tel Aviv rejected Manal Ghanim's appeal - presented by her lawyer Mahmoud Hasan - against the refusal of the Parole Board to release her after she has served two thirds of her prison sentence.
Before the court session started, dozens of peace activists, invited by WOFPP, demonstrated in front of the court building asking to release Manal and all the political prisoners.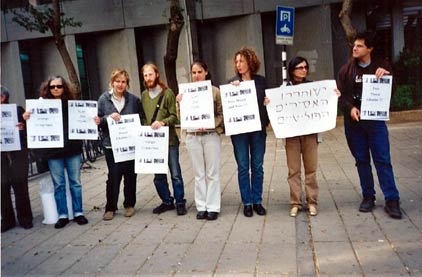 New Prisoners
Etaf 'Alyan, 42 years old, from Ramallah, mother of a 16 months old baby, a previous longtime prisoner who had been released in 1997, was re-arrested in1998 and held in administrative detention. She was arrested again on 22 December 2005 in Ramallah by the Israeli army and is again being held under administrative detention.
Fathia Birawi from 'Asira Shamalyia, Ramallah District, was detained in December 2005.

Neve Tirza Prison

There are four women political prisoners in Neve Tirza at present.
The recreation time is limited to two or even one and a half hours, depending on the arbitrary decision of the wardens.
The families are not allowed to bring material for handicraft.
The women suffer from fungus on their skin which does not heal in spite of treatment, due to dampness and the lack of air and sun.
The WOFPP lawyer, Taghrid Jahshan, who met some prisoners in the visiting room said that she could hardly discern the face of the woman she was talking to because the glass partition was so dirty. This is obviously also a great discomfort for the families when visiting their relative.
On 22 December, Tali Fahima was sentenced to three years in prison. She had been arrested on 8 August 2004. On 5 September 2004 she was put into administrative detention. Upon the request of the Security Service her administrative detention was terminated in December 2004, and she became a regular detainee. The four months of her administrative detention are not to be included in her prison sentence. If she will be released after serving two thirds of her prison term, she could be released at the end of 2006.
Taghrid, the lawyer of WOFPP, who has asked to meet Tali Fahima in Neve Tirza did not get the permission to visit her, but was not given any reason for the refusal.


Home page