Women's Organization for Political Prisoners (WOFPP)
Newsletter August 2012
There are, at present, 8 women political prisoners in the Israeli jail. They are held in Hasharon Prison.

Hasharon Prison (Tel Mond)

Books and Crafts

In July 2012, WOFPP'S lawyer, Taghreed Jahashan, sent a letter to the prison authorities demanding to allow books and handicrafts to be used by the women political prisoners. About a week later the prison authorities allowed the prisoners' families to let in two books per month as was allowed by the High Court As for crafts material, the prison authorities refused to allow the families to bring any material. They said that only the International Committee of the Red Cross is allowed to bring crafts material. But until now (1 September 2012), nobody has brought any such material to the women political prisoners. We continue working on this issue.

Sentences

Salwa Hasan, 52 years old, from Hebron, was arrested on 19 October 2011. On 11 July 2012 she was sentenced to 21 months and a fine of 3000 NIS ($ 750) and a two-years suspended sentence for 5 years

Afnan Ramadan, from Hebron, 22 years old, a computer science student at the Polytechnic University, was arrested from her house on 23 April 2012. On 28 August she was sentenced to 7 months imprisonment, a fine of 7000 NIS ($1750) and a ten-months suspended sentence for 3 years

New prisoners

Nusyeba 'Udah Jaradat, a teacher, 30 years old, mother of two, from 'Aman in Jordan, was arrested on 20 June 2012. She was brought to Kishon Detention Center (Jalameh) where she endured harsh interrogations. The prison authorities forbade her to wear the religious long dress she is used to wear, and forced her to wear the prison clothes that include pants and shirt, which offended her because she is not used to wearing pants. She was held in a very dirty cell without windows. The interrogators shouted and cursed her, and threatened to arrest other family members who live in the West Bank.
On 17 July 2012, she was transferred to Hasharon Prison.

Hadeel Abu Turki , 17 years old, from Hebron, a former prisoner, was arrested on 26 July 2012.

Asma Batran, 24 years old, from Idana Hebron district, a student in Hebron University, was arrested from her home on 27 August 2012.

Released prisoners

Wurud Kasem , from Tira in the Triangle, was arrested on 4 October 2006 and was released on 9 August 2012.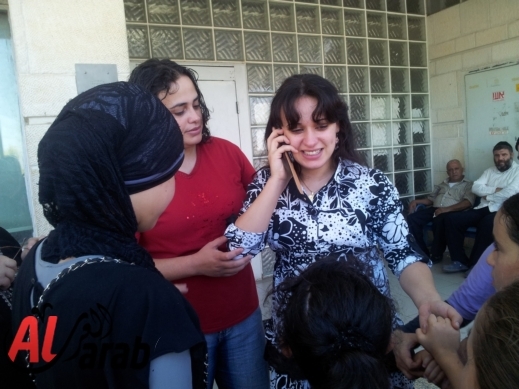 Interview with Wurud Qasem and her mother

Islam elBashiti, from Beit Ula, Hebron district, 22 years old, a computer science student at the Polytechnic University, was arrested on 18 April 2012 and released on 5 August 2012.

Waffa 'Atya, 29 years old, from Qalqilya was arrested on 18 July 2012 and released on 8 August 2012.

Najah elQarinawi, 49 years old, from Rahat in the Negev, was arrested on 2 August 2012, and released on bail on 16 August 2012.


WOFPP needs donations to enable us to continue frequent lawyer's visits in the prisons.

For donations to WOFPP :
Bank account:
Women's Organization for Political Prisoners (WOFPP)
Account number: 471067
BANK HAPOALIM
Branch 532
Daniel Frisch St. 3,Tel Aviv 64078, ISRAEL
IBAN number: IL 60-0125-3200-0000-0471-067
BIC (swift): POALILIT

Address to receive the contribution:
WOFPP
Frug Street 30
Tel Aviv 63417, ISRAEL
Home page